Story Park
What is Storypark?
Storypark is a secure online learning and development program in which families can share ideas, knowledge of the child, and aspirations with educators. Together families and educators make decisions about future learning with everyone's voice contributing to possible pathways of learning.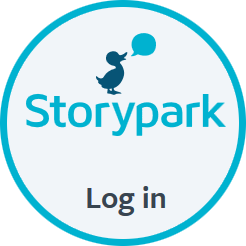 How does Storypark help my child?
The online program:
improves communication between educators and families;
enables educators to spend their time with your child more effectively;
helps your child define 'what's next' in their learning;
provides deeper insights into your child's unique interests, needs and abilities;
allows better support and improved outcomes; and
actively involves family members in your child's learning.
Storypark is Cloud based and accessible from any internet capable device. It requires no installation, automatically updates, and is able to be viewed anywhere.
Who has access to my child's Storypark profile?
Parents own their child's Storypark community and content. You can invite Nana in England, an uncle in Doncaster, a parent that isn't living with the child, etc. You have control over who has access to your child's Storypark area. You are the owner and can add and remove people at any time.
How do I use Storypark?
Storypark is not a social networking site. It's a professional learning tool to support your child's learning and development. Our educators at Cuddly Bear Templestowe have guidelines for using Storypark and it will only be used to communicate your child's learning and development, group learning reflections, program reflections, goal setting and aspirations for your child. You can't find your friends and you can't see who else is online as you can with social networking sites.
What measures have been put in place to ensure safety?
We take cyber safety very seriously. Our educators have individual room passwords to login to Storypark. Our IT support has reviewed our devices and our antivirus software is up to date and current. Cuddly Bear Templestowe Early Learning Centre and Kinder has an Information Communication Policy and a Privacy and Confidentiality Policy which can be viewed HERE.
Storypark adheres to government standards for cyber safety. You can find more information at https://www.storypark.com/cybersafety.
No one can find your child's Storypark account unless you invite them
Where do I find further information?
For further information provided by Storypark, visit their website here ❯ This weblink provides advice including how to invite family and how to add a child to your Storypark account.
Storypark Families app
Designed to help you to record and share your child's milestones and activities. Share moments with the whole family or as a private message. Begin a record of your child's life you'll cherish forever.


For more information about Storypark, visit their website here ❯
Xplor
The easiest way to keep track of your child's day. Personalised learning, videos and photos showing long term trends and daily details for a wide range of health metrics. Book your child into any Xplor, QikKids, or Discover childcare centre quickly and easily at a moment's notice.
Learning Journey
View your child's learning, featuring all the beautiful photos and videos captured throughout the day. Chat with educators about your child's progress and re-discover their passions. Finally, share those special moments securely with other family members.
Health & Wellbeing
Monitor your child's health at a glance with easy analytics covering: sleep, nutrition, toileting and sun protection. Receive and keep secure records about any medication or incident reports while at care or at home.
Booking into Childcare
Quickly and easily book into extra child care sessions when you need it most. Send messages to your centre to let them know if you're running late or will be absent.
Finance & Child Care Subsidy
Simplify your child care financials so they're easy to manage. Quickly see how much child care subsidy you are receiving and when payments are due.